We recently caught up with James Archer of Archer's Butchers . The butchers was established more than 90 years ago in the 192os as a third-generation, family-run business in Norwich's famous provisions market.
John founded the shop on Plumstead Road that still exists to this day. His son, James (Jimmy) Archer, came into the trade as soon as he was allowed to leave school and in the early 80s bought the business from his father.
Since then the business developed and the shop doubled in size to cope with the extra demand, and a delicatessen and baguette takeaway were added.
The butcher's mission centres around being considered champions of high quality, locally produced meat rear with high welfare standards and sustainability is central to their business outlook. They value the relationship built with local farmers and suppliers and are staunch supports of local business in Norwich.
Now in its third generation, James (Jamie) Archer is taking the business forward but also maintaining traditional techniques and methods used by his father (Jimmy) and grandfathers (John Archer & Oliver Craske).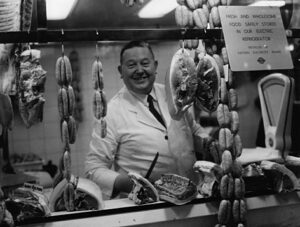 What's your favourite part about being an owner of an independent business?
We have complete control over what we sell – from farm to fork.  We enjoy building and nurturing relations with both suppliers and customers. We've diversified over the years and built a brand that i'm really proud of the core business hasn't changed; it's built on relationships with local farmers'. These days we source each protein from one farm, meaning we can be 100% confident of animal welfare, quality and sustainability, three areas of focus for our business promise to our customers.
When has a customer surprised you in a positive way and how did they do it?
The amount of support and good wishes we received after winning Britain's Best Butchers Shop was both overwhelming and surprising.  We had hundreds of messages on all media platforms as well as cards, chocolates and champagne. It was lovely to feel that everyone was as pleased as we were!
What is the best bit of advice you could give to someone who is looking to start their first business?
There is no secret, it's just hard work and trying to keep up with consumer trends to try to stay-up -to-date with customers wants and needs.
Are you worried about Brexit and any implications it could have on the meat industry?
Not on the meat industry in particular, but yes worried about the economy as a whole, during and after the Brexit process.
How do you think we can attract more footfall to local high streets?
Trying to keep the shop fresh with new products and ideas. We have introduced lots of quick and ready prepared meals for the convenience of our customers who lead ever increasing busy lives.
Where can we find out more about Archer's Butchers?
Website: www.archersbutchers.com
Email:  james@archersbutchers.com
Mobile:  07810662087
Landline: 01603 434253
Facebook:  www.facebook.com/archersbutchers
Twitter:  www.twitter.com/Archersbutchers