Visiting trade shows open up endless possibilities to boost your retail business in 2023. We're looking at key reasons why they need to be part of your retail strategy each year. Update: Tickets are available for Autumn Fair, 3rd -6th of Sept 
Top 5 reasons why retail businesses need to attend trade shows
Finding new suppliers. A trade show is the simplest way to discover new, exciting products to offer your customers back in your shop and boost your retail business. Once inside, you'll see the latest products recommended by industry experts.
One thing that may stand out is a competition running in the background –  with categories such as 'Best Value Product', 'Best Innovative Product', or even 'Best Newcomer' –  helping you seek out new items that will excite your customers and show them you are capable of choosing the products they want most for their homes, or to wear or receive/give as gifts.
Capture the latest trends. The seminar schedule, where all the hot topics are discussed, provides an opportunity to find out what everybody else is struggling with and where retailers are experiencing success. They offer vital tips on the best marketing techniques and product trends, looking at the what's best to initiate and that help your shop be the success you want it to be for the coming year.
There are so many insights shared at these events, often from very high profile speakers, who you'd pay a fortune to go and listen to or receive a mentoring session. Shows like Top Drawer,  Spring Fair, and the upcoming Autumn Fair in September, do their very best to get the experts in their field in front of you so that you can learn and develop your products and services and be the best retail shop on your high street or in your shopping centre. Autumn Fair, held at the NEC in Birmingham brings together  the most sought-after products, suppliers and creative thinkers under one roof. It's one of the UK's leading wholesale marketplaces for home, gift and fashion, showcasing fantastic new products from the best brands in retail better in-person and viewing online.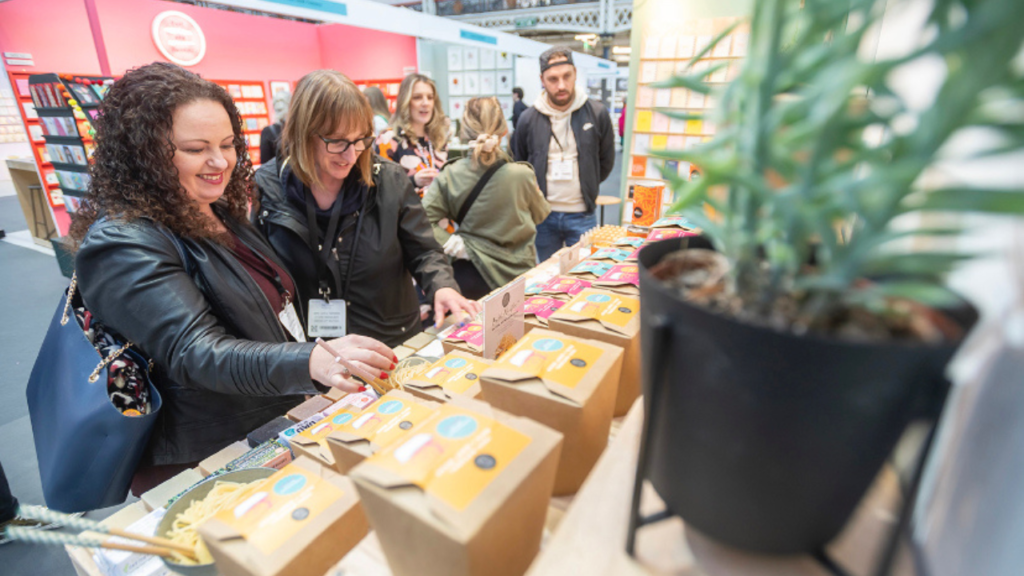 Team building. Your shop team is one of the most vital resources for your business; having them join you at a trade show can cement how much you value them and help you maximise their abilities. 
Having an opportunity away from "work" will help you bond over your values and share what is important to you as the owner – as an example, ensuring you're all on the same page regarding customer service and experience. 
Knowing that your team appreciates the value of your reputation and the enthusiasm they show to your customers is vital to successful high street businesses. We're often so busy with the day-to-day that it can be challenging to share your ideas and dreams for your business with your team. Trade shows present the perfect opportunity for this. They'll love having a say in your selections – see how much more connected they are with selling those products once they're back in the shop! Making the most of this resource will help your business fly higher this coming year. 
Learn new skills. Listening to experts who specialise in all areas of running a successful business can help to boost your retail business. Seminars and talks include visual merchandising, good practice and seeing first-hand examples of the best window displays or learning how to display and properly market your products on social media that encourages your audience to buy. These valuable learnings applied to your business can be overlooked by teams attending trade shows.
Organisers may offer training on subjects such as growing your social media presence and how to use it to their advantage as a customer support tool for your business. Stay in touch with customers when not physically in your shop, reminding them your business is there and have an array of best-selling products available. Learn how to help your customers choose the best gifts for work colleagues, teachers and other staff, friends and family and the special someone in their lives. 
Networking opportunities. There are always areas for attendees and speakers alike to connect over a coffee. You'll be grateful for these spaces when you've been trawling around the trade stands and you're feeling a little foot sore! You'll have lots of common ground with others at the show and these opportunities to meet other retailers don't come around that often when you find it hard to leave your own shop.
Even if it's simply a matter of chatting about how sore your feet are! Sometimes it's good to see what other attendees have found or what they've got out of the show so far. Perhaps you'll hear about any trade stands they feel you shouldn't miss, or if there are any seminars that they thought were particularly good. There are often some golden nuggets of information in these conversations so don't miss out!
If you haven't been to a trade show before, or it's been a while, have these top tips encourage you to visit one soon? We welcome your feedback. And by the way, we're going to visit the upcoming Autumn Fair on 3-6 September at The NEC in Birmingham – you can grab your free ticket here. And, you need to hurry before the 9th of August deadline to register!
If you run out of time to attend the seminars because you're so busy sourcing new items, did you know that we offer business support, ranging from JO for business growth developed over many years of working with high street businesses to bespoke programmes at SaveTheHighStreet, depending on what you're trying to achieve. We support all types of business, from independents and market traders to councils and landlords looking to reimagine shopping centres and town centres. We're here to help boost your retail business.
Check out JO today or ask your local authority about the special joint partnerships we're most likely working on.